Points program at Paso Chico
Book your holidays and be rewarded:
With us you have the opportunity to collect bonus points. In collaboration with GO-Friends, we offer you the opportunity for every booking to be rewarded from us! You will receive for every euro during your booking a revenue of one bonus point on your bonuscard. The best part is, YOU can decide what you do with your points. You can redeem these points with us again or at one of the numerous partner companies, or pay out in cash. Besides, you can collect with the partner company also points, a gay network only for YOU! A list of current partners can be found here:
Our partners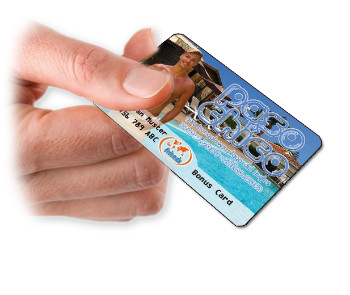 Collect and redeem points is easy:
During the booking process you can enter your "Comments or requests" and receive the respective credit points, on the day of your arrival. Or you can also get the respective discount for your journey, if you want to redeem points with us. If you want to redeem points, it is necessary to redeem at least 100 points, otherwise the administrative costs is too high. Please write in the free text field during the booking that you want to redeem your points of the card number.
Become a bonuscard customer now:
First variant:
You send us your complete contact information (name, address, email address and phone number) to info@paso-chico.com then we register you as bonus customer. You will get one of our free bonus cards sent home.
Second variant:
You can register by yourself following the link:
Become a Bonuscard member
choose our design card.
Further advantages:
Besides the usual bonus points you will also get the chance to collect more bonus points. Let us know that you are interested in other bonus actions, Email to info@paso-chico.com is sufficient. Or check out regularly this info page! There are no restrictions. No matter which country you're from, everybody can join!
If you have any questions, please contact us via email.
SPECIAL: at the moment there's no special