Upcoming Events
18.06.22 - 01.01.23
Special "Home Office"
From the 1st May 2022 our "ECO Home Office" Special will be here FOR EVER! 30 % discount if you book at least 3 Weeks with us.
ONLY on our Website in our bookingengine! Events are nit included in the discount but can be booked included in this stays, other days will be reduced then from the booking system!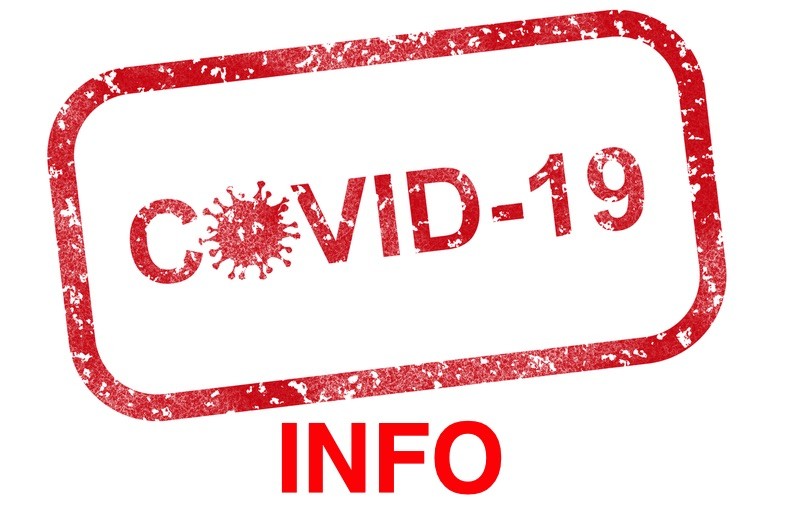 08.09.22 - 01.02.23
Coronavirus rules at GC
The rules for the time after the alarmstate are fix now. We will establish this rules in Paso Chico as well. Basic rules for all tourists are available as well and this is what you need to know: ⁃ Some tourist need to fill out a form BEFORE he arrives in spain, you can find it HERE If you are not shure, you can check with your COVID-Certificate, if you need t fill it out, check the certificate HERE - To arrive in Spain (since 23rd NOV 21) it is required that every person from a risk country of THIS MAP (in RED) must present a negative Corona-Test, details in the Form Link over here as well! This obligation can be ignored if you can show a document from your government that shows, that you are fully vaccinated against COVID-19. This can not be older then 8 Month! Or you present a ducument from your government that shows, that you overcame the COVID-19 infecction, not older then 6 month! ⁃ To be a guest in in a touristical complex you have to present a negative Coronatest at check in. The test must be realized max. 72 hours before check in. It must include: Name of the guest, Date and time of test, name and contact of the laboratory which has done the test and of course the information that the test was negative. It can be a PCR-Test or Antigen-Test. Valid for ALL arrivals.
The obligation to present a negative Corona-Test in Paso Chico can be ignored if:
1) There is an officially accredited document that proves that a fully completed corona vaccination has been carried out, this can not be older than 8 months before arrival in the Canary Islands. Or you must have received a single dose of an EMA-approved vaccine (Pfizer, Moderna, AstraZeneca or Janssen) within the last 4 months, but at least 15 days ago. Of course, this must also be officially demonstrable.
2) You can prove with an official document that you have recovered from COVID-19, this can not be older than 6 months. ⁃ If you arrive without one of this 3 options above you MUST do a test at a laboratory at Gran Canaria before check in. We can help to find one for you. If the arrival is during a a time the laboratorys are closed you have be in quarantine in Paso Chico and you are not allowed to leave the room, only for a coronatest,of course as soon as possible. The costs are applied to the guest. ⁃ If the test from the laboratory at Gran Canaria will show positive, you are forced to go into the health system of the canary islands. This rules about Test and Vaccination are temporary suspended, till 31. December 2022! The other rules are still valid! ⁃ During your stay and 15 days after the stay you need to install and activate the Corona warning app "Radar Covid" on your smartphone. AppStore (Apple), GooglePlay Store ⁃ For departure you can do a test as well, recommended is 48h before the flight time, if you need one we can help you. ⁃ You MUST wear INSIDE a Facemask, only in health system incl. Faramcies and public transport ⁃ At the beaches there are the same securety rules established! In Paso Chico: ⁃ Room cleaning can only be realized, if there is nobody in the room. This means you will have to leave for the time of cleaning. ⁃ We are forced to take away extras: Blankets in the wardrobe & some small things which are not conforming with the hygienic rules. ⁃ The doors to the streets are separated in one Entry and one Exit in Paso Chico ⁃ at the Pool there is a social distance rule, we try to make it as pleasant as possible. The change of Sun loungers positions are prohibited to garantize the social distancing. ⁃ Bungalows can only be used from roommates (external visitors are not allowed in the moment, as for the Laws for Corona-registriation etc.) ⁃ Aglomaration needs to be avoided by any means ⁃ In case you show symptoms (sore throat, fiber or difficulties of breathing), DON'T LEAVE the Bungalow. The authorities must be informed. They will also inform about next steps. <- Rules temporarly suspended (till 31 of December 2022) All established rules are active until further notice. Actual the touristical rules (fpr be a guest in Paso Chico) are valid till 30. June 2022! If you are not following the rules the local authorities (Police / Guardia Civil) can sancionize you with a penalty fee.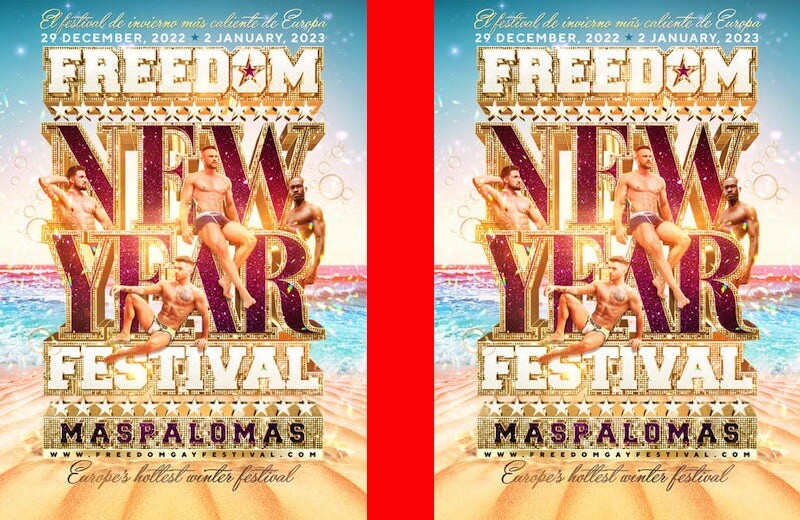 29.12.22 - 02.01.23
Freedom Festival NEW YEAR
No special offer, for New years eve and christmas we have a minimumstay of 10 nights!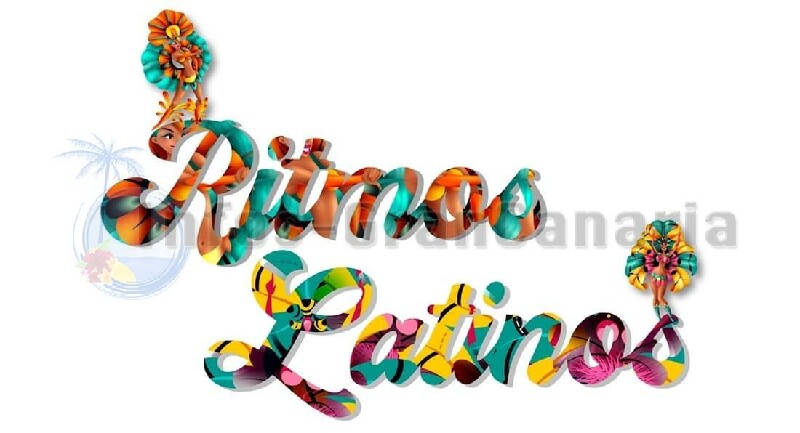 09.03.23 - 19.03.23
Carnival Maspalomas 2023
NO SPECIAL OFFER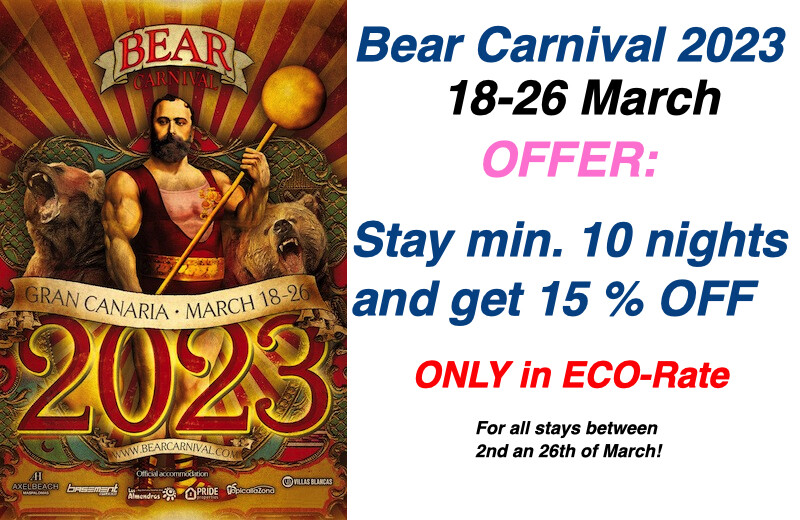 18.03.23 - 26.03.23
Bear Carnival 2023
SPECIAL OFFER:
Book a stay with minimum 10 nights between 2nd March and 26 March 2023 and get a discount of 15% for our ECO-Rate! This offer shows up in our Booking System, only as soon you fit the requirements (timewindow and minimumstay), stay can be longer, but must be in the mentioned timewindow!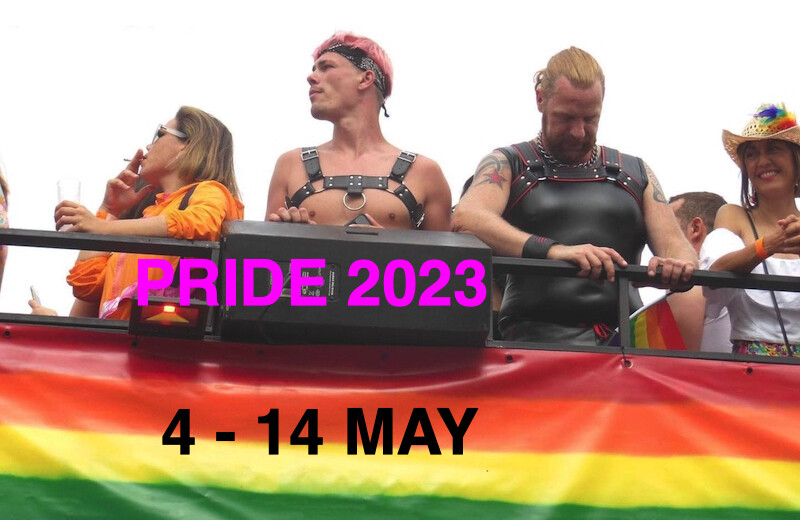 04.05.23 - 14.05.23
Gaypride Maspalomas 2023
SPECIAL OFFER:
Book a stay with minimum 10 nights between 4th March and 19th May 2023 and get a discount of 15% for our ECO-Rate! This offer shows up in our Booking System, only as soon you fit the requirements (timewindow and minimumstay), stay can be longer, but must be in the mentioned timewindow!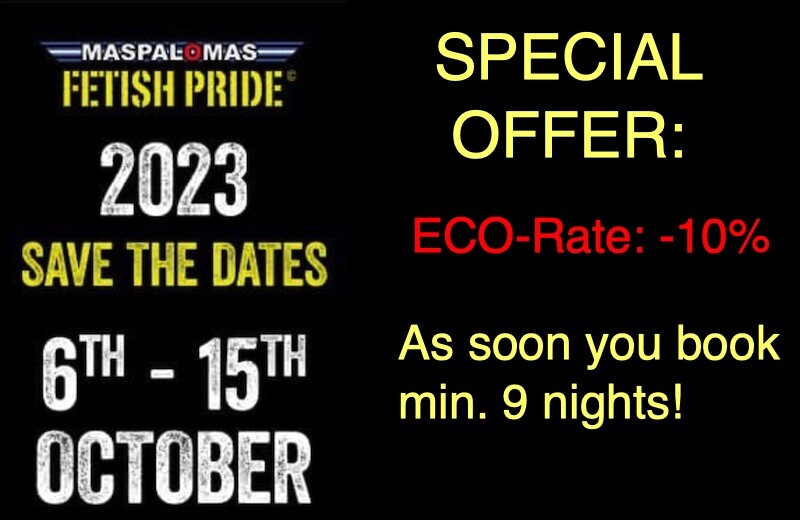 06.10.23 - 15.10.23
Fetish Pride 2023
Special Offer:
ECO-Rate - Minimustay 9 nights = 10 % discount automatically in our Booking-Engine!
ONLY for stays between 6th and 18th October 2023!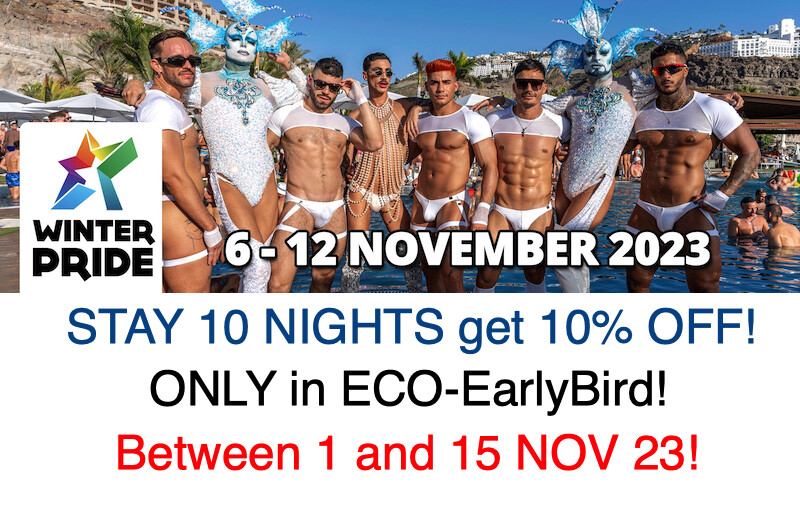 06.11.23 - 12.11.23
Winterpride Maspalomas 2023
OFFER:
Book ECO-Earlybird for 10 nights and get 10 % Discount in our Booking engine automatically!
Valid for stays between 1 and 15 NOV 2023!