Gran Canaria – a lot to discover at the miniature continent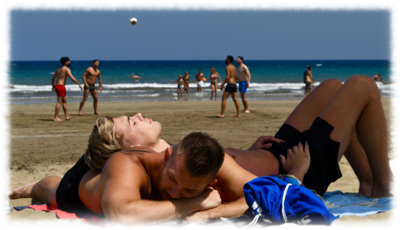 The first thing that a gaytraveller will discover at Gran Canaria is the gay nightlife in CC Yumbo and in the surroundings of it, the Gay Bungalows Paso Chico are located perfectly for this as all is just foodsteps away. Either Gaybars, Gay Club, Gay Sauna or others activitys for the night, all is close by. There is a lot to discover and for everyone is something to find.
The next on the bucket list of a gaytraveller is for sure the
Gay Beach Gran Canaria
or the Main Beach of Playa del Inglés. As the main beach is often very full with people it is often more worth to take some steps more to dicover the Gay Beach. The reward for the walk is a bit more quitness and a lot of gay guys. Within the footwalk you can cross teh Maspalomas dunes or the main beach of Playa del Inglés. Sometime you can find some nice spaces on the way to the beach, if you are looking for some rest.
Gay at Gran Canaria – there is more to discover!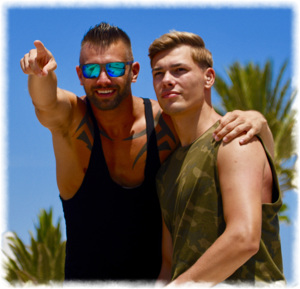 The ovious thing which a gaytraveller can discover at Gran Canaria are notthe only things you can find at the island. The Islands offers a lot more and all is worth it!
We suggest always a trip to
Las Palmas
, the capital in the north of the Island offers a wide variation from culture to party, a nice City-Beach (Las Canteras) with a big prommenade at beach side. In the Santa Catalina Park you can find some very nice coffees which also are gay owned and operated. The
botanical garden
near Las Palmas or the Doramas Park are worth a visit if you love nature. For shopping we suggest a walk in Vegueta, specifically the Triana, Thursdays there is a Tapas Night here as well, more then worth it! One of the best shoppingcenters is Las Arenas opposide the Ausitorium in the south part of Las Canteras Beach. The
Aquarium Poema del Mar
offers a spectacular view into the deep see with the bigest aquarium window ever created.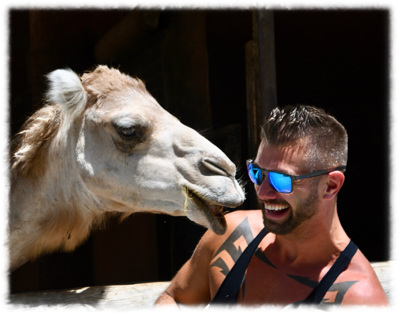 Pure nature at Gran Canaria
If you are looking for something different during your gaytravel at Gran Canaria, you shoul rent a car and visit the mountains! A lot a tiny villages with spectacular views which you will never forgett awaiting you. From some party you can even see Tenerife or your holiday location Playa del Inglés.
Besides the views from the mountains you can do a lot of activitys there as well. As example the
Camel Safari Park La Baranda
, a small and green Oasis in the middle of nowere, a camel ride (dromedare) is always fun. Some camels will love you so much that they will give you a kiss. Hikers are ablte to do a lot of hikes in the moutains of Gran Canaria as the valleys and mountains at Gran Canaria offer adventures like canyoning and more.
You can discover green landscapes as well as
coffee plantations
in the north of the island or historical places like
Mundo Aborigen
. Some of the tiny villages are that beautyful that you like to stay a bit, which you shoul by the way as here the time has stoped, which makes it so special. You can book different tours by bus as well, this will make you not so flexible as with a rented car but it is always better then not visitng the mountains.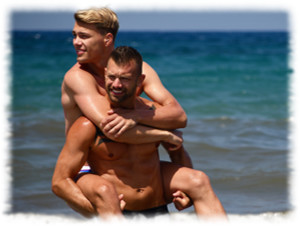 Waterfun at Gran Canaria
Other guys like
water more then nature, Gran Canaria has a lot to discover
for this guys as well. Tours, Sports and more like Delfin watching, boat trips to hidden gems like Güu-Güi-Beach and more awaiting you. Snorceling, diving, surfing all for watersport fans is available at Gran Canaria, too. In Puerto de Mogán there is a Submarine Adventure waiting for you as well, this can be very interesting, too.
No matter which tipe of holiday you prefer, Gran Canaria offers something for every gaytraveller! From culture to Party, tours, sex and zoos we can help always with tips and tickets.