The Service in Paso Chico
Service is very important to us, that's why we continue advancing the service. Details you will find under the category Agenda.
Our services in an overview:
Late arrival past 18h:
If you would like to come past 18h you will need a Limousin-Service. The driver picks you up at the airport and brings you to your bungalow. We will then do the check in the next day.
Price: 34,00 Euro up to 4 Persons one way
Of course it is possible to be brought to the airport with the Limousin-Service, absolutely comfortable and stress free.
Price: 34,00 Euro up to 4 Persons one way
Filled fridge on arrival day:
We fill your fridge with 6 bottles of Tropical beer (0,25l), 6 bottles of water (still 0,5l), 3 bottles of Cola (0,5l) and 3 bottles of Fanta (0,5l). Other combinations are possible on demand, please ask us!
Price: 22,50 Euro onetime filling
Washingservice (One laundry load) 3,50 Euro
Fan 1€ per day
VIP-Welcome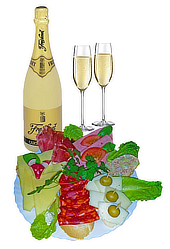 We will place a bottle of Sparkling Wine 0,7l and 6 Canapés in your Bungalow for your arrival.
The image is an example.
The price is 22 €
Free Service in Paso Chico:
- Gratis WiFi
- 5x Cleaning per week (Monday to Friday), 1x change of linen per week
- ECO Rate, save money with only 1x Cleaning per week incl. change of linen.
- We lend beachtowels and books
NEW: Luggage Scale